For a number of years now we have had contacts with FTC who produce a wide range of Tenderometers and food texture measurement machines. Used by many multinational companies, FTC produce robust, accurate and reliable machines for many markets.

TU-12 Portable Tenderometer
The TU-12 tenderometer is a portable and economical instrument for determining the maturity of fresh peas in the field.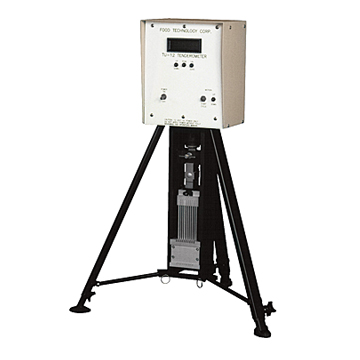 Specifications
Stroke speed Pre-set (standard) 30 seconds
Maximum force 160 tenderometer units
Display units Traditional tenderometer units
Standard 12 Volt Battery (other optional voltages available)
Dimensions 10" (L) x 10" (W) x 37" (H)
Weight 16kg / 35 lbs
For 40 years, processors worldwide have relied on FTC Tenderometers to determine harvest dates, buy on grade, and position harvesters for the most effective crop yield. With profits at stake a point or two off the standard can be very costly. FTC systems have proven to be the most dependable accurate, and trouble-free ever created for grading pea quality. Accurate readings can save thousands of dollars a day for a medium to large operation, and quickly pay back the initial investment.